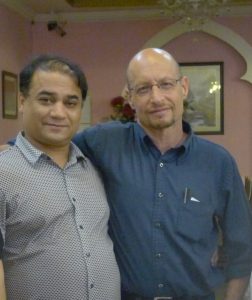 The January 15th arrest of Ilham Tohti, an Uyghur, a professor, and an activist for the rights of the Uyghur people inside the People's Republic of China, is a distressing reminder of the realities of truly independent political thinking in China. The tragedy of a state that systematically silences people like Ilham on the basis of what are shaping up to be transparently trumped-up charges is obvious. But sometimes the human element is lost in the outrageousness of it all, particularly for those distant from the people and places in which such things occur. Ilham is a friend of mine. I consider it an honor to be able to state that. And out of that friendship I ask readers of this blog to remember that there is a dimension of pain in this sort of situation that goes beyond the political prisoner himself or herself and ripples out to the prisoner's family and beyond. To that end I translate here a small number of tweets that reflect that very human reality.
The tweets originate with Woeser; with Ilham's daughter, Jewher Ilham; and with Hu Jia*. The first has been translated (and tweeted) by Paul Mooney. All but one were written before the wretched announcement from the Xinjiang PSB (described at the end of this post) appeared some 24 hours ago. That announcement is horrifying, both in its potential consequences and in its demonstration of the lengths the state will go to in concocting a false case against a very brave critic, clearly worrying little if at all about the sheer ludicrousness of its accusations. The last tweet is poignant in a particularly personal way. I was supposed to meet Ilham and his daughter some 20 hours after the photo referred to in it was taken, when they were scheduled to arrive in Indianapolis. He had been appointed a visiting scholar at Indiana University for one year, but as is now well known, he found himself not on the Bloomington campus but in detention in Beijing. [Note: since this post went up I have been periodically adding additional tweets to those originally posted.]
* * * * * * * * * * * * *
This afternoon there were five people standing guard outside the door of Ilham's home on the 17th floor. Two young men were blocking the corridor. Two women who said they were from the Parent Committee were sitting there. And there was a man who was in charge of the whole scene. In a chorus they said I couldn't see Ilham's wife, his children or his aged mother. But none of them were police. In the modern, black car outside the neighborhood gate, two plainclothes police…

Hu Jia, January 17

* * * *

In America it's already 2:00, early in the morning. But my head aches and I can't sleep. I worry about my father, and I'm angry. Someone who tries to preserve the ties between nationalities, who stands up and speaks for his own nationality; such a person should be seen as a hero, and not thrown into prison! Justice? Where is justice?

Jewher Ilham, January 18

* * * *

Ilham's mother suffers from a number of ailments. Originally she was getting ready to be hospitalized for treatment. But because of Ilham's arrest, yesterday she sadly returned to Xinjiang.  Now Ilham's wife is looking after their two sons, 4 [sic] and 7. Eight plainclothes police guard the door. Downstairs there are also many plainclothes police, to the point that they've taken up quarters in the neighborhood youth hostel's private dining rooms; all for the surveillance of this one family's mother and children.

Woeser, January 19

* * * *

Ilham's wife Guzelnur told me that the two boys have been crying for the last two days. Yesterday evening they were crying and wanting their father. They cried until 3:00 a.m. and finally fell asleep, exhausted.

Woeser, January 20

* * * *

"Every time I went to my classmate's house, I'd see this family portrait hanging on the wall–I was always so envious. I recall my father saying to me the week before I left China: "Let's take a family portrait. Wedon't know when we'll have another opportunity to do this again." It's a pity that my brother is in Xinjiang, we don't know where my father is, and even worse, I don't even know when we can take another real family portrait again."

Jewher Ilham, January 20 (translated by Paul Mooney)

* * * *

Today was the 9th day since Ilham was illegally detained. His 7-year-old son understands his father has been arrested. His 3-year-old son still doesn't and often asks his mother where his papa has gone and when he's coming back. His mother can only tell her little baby that papa has gone to care for their sickly grandma and will be back after two days. After Ilham's mother returned to Xinjiang her health became even worse and she's been bedridden ever since.

Hu Jia, January 23

* * * *

Ilham's wife said that last night at dinner both children were crying again; they wouldn't stop, saying "they missed papa."

Woeser, January 23

* * * *

Your father is smart and he's good-looking. RT @JewherIlham I just remembered how some time ago my youngest brother asked me, "Sister, why do papa's students often play with me?" I told him "First, it's because papa is extremely smart; everyone likes papa. Second, it's because you're smart. Everyone likes you." He was really happy and laughed. He said that he was going to be as fiercely smart as papa. Once, watching an animated film with a fierce character, he said to himself softly "that's fierce like my father."

Woeser, RT Jewher Ilham, January 24

* * * *

… Ilham's wife said, "Ah, Woeser, last night I saw him in a dream. He was being held in a small dark hut. His hair and beard were very long. His face didn't look well… Tell me, isn't this really too much? The man was arrested ten days ago and they haven't given us any news of him. Is he being held in Beijing? Was he taken to Xinjiang? Why won't they tell our family anything? It's nine nights I haven't slept; I continue to wait…

Woeser, January 24

* * * *

This afternoon Ilham's wife took her eldest son to get his hair cut. They walked past the bustling West Gate of Minzu University and her son said he felt dizzy. Ilham's wife noticed that her son's face was very red. It had been several days since he'd been outside. He and his younger brother had followed their grandmother out the gate. Following behind were plainclothes police. He was uneasy and so he shut himself up in the house, watching cartoons. But Ilham's wife said her son's eyes would suddenly tear up while watching the cartoons.

Woeser, January 24

* * * *

It's been 10 days since Ilham was arrested and there's absolutely no news. His wife telephoned Public Security Officer Huang. Officer Huang told her it's being handled by the Xinjiang PSB and has nothing to do with the Beijing PSB. At first he said that Ilham was safe and secure, but later on he refused to take her calls. He had also told her "you should not say anything; just take the two children and go back to Xinjiang." Ilham's wife said "If I go back to Xinjiang, even telephone calls won't be possible. I won't go back. I'll just wait in Beijing."

Woeser, January 24

* * * *

This is a picture that Ilham really likes. It was taken on February 2, 2013. He's at Beijing Capital International Airport getting ready to depart for the United States as a Visiting Scholar. But shortly afterwards he was taken into custody and not allowed to leave the country. The reason he likes it so much is that for that one brief moment he felt that he was finally headed for physical and mental freedom…

Woeser, January 25

* * * *

I spoke with Ilham's wife. She doesn't seem to have internalized just how serious Ilham's situation is. She asked "Why hasn't the Urumqi Public Security Bureau contacted the family? They just suddenly put out something on Weibo, something filled uniquely with false accusations. His lawyer, Li Fangping, travelled all the way out to Urumqi; why didn't the Urumqi Public Security Bureau let him see Ilham?"

Woeser, January 27

* * * *

Ilham's wife said the four or five plainclothes police outside their door rotate often. These last two days they brought in a folding bed. Maybe they sleep outside the door at night. "Isn't this too much?" she said. Yes, it is. It's 13 days since Ilham was arrested. At home are only his wife, her mother, and his two sons, 3 and 7. Four people, woman and children, monitored by four or five strong young men: they're too inhuman.

Woeser, January 27

* * * *

When Ilham's wife drops off and picks up her youngest son at nursery school plainclothes police follow closely behind. Yesterday they followed too closely. Ilham's wife couldn't stand it and shouted, "Give us some space!" Even their 3-year-old son could see that they were being tailed. He nervously asked his mother, "Why are they here again?"

Woeser, January 27

* * * *

When Ilham's neighbors run into his wife, at the entranceway, in the corridors, or outside, they don't say anything. In 2009, when Ilham "disappeared," the neighbors also didn't speak to his wife or children and pretended not to see them.

Woeser, January 27

* * * *

This afternoon diplomats from the Canadian Embassy went to Ilham's home to look in on his wife, mother-in-law and two sons. They wanted to bring some fruits, biscuits and toys as New Year's gifts. But the four plainclothes police outside the door to Ilham's home wouldn't let them enter. The diplomats said "OK, we won't go in. Why don't you look inside the box, see what's in it and then pass it on to Guzelnur, alright?" They still said it wasn't alright. The diplomats had no choice but to leave.

Woeser, January 29

* * * *

Ilham's wife said her seven-year-old son can't sleep and isn't eating well. He's become quite thin. Her three-year-old son thinks his father has gone to Xinjiang to care for his ailing grandmother. But he wants her to telephone papa and tell him to come back quickly. And he always wants his elder brother to join him in watching cartoons and playing games. Last night Ilham's wife asked the older son, "Do you think papa is playing games like this?" The boy lowered his head and said "My heart is in pain." He said it in Uyghur.

Woeser, January 29

* * * *

At present at least four Uyghur students are confirmed as disappeared: Central Minzu University undergraduates Atikem Rozi and Abduqeyyum Ablimit; Central Minzu University graduate student Perhat Xalmurat; and Renmin University graduate student Shohret. The parents of two of the students came to Beijing from Xinjiang to try to find out their whereabouts. On January 28, Perhat's parents were notified by the Urumqi Municipal Public Security Bureau that he has been imprisoned in Urumqi. [Note that two other students from Central Minzu University are among the disappeared as well: Perhat Ablet and Mutellip Imin. Mutellip Imin, who has been studying in Turkey, was also arrested this past July at Beijing airport when he was about to board a flight to return to Istanbul. He was held for over two months on that occasion and was not allowed to leave afterwards. ES]

Woeser, January 29

* * * *

A few days ago several diplomats from the American Embassy entered Ilham's home without being obstructed, contrary to what one would have expected. Not only were they not obstructed, whereas normally there are four people at the door, there was only one. And he kept his distance. RT Hu Jia: Might diplomats from other countries go?

Woeser, RT Hu Jia, January 29

* * * *

Free Ilham Tohti! February 2: it's exactly one year since I arrived in the U.S. and day 19 since my father's arrest.

Jewher Ilham, February 2

* * * *

This is a picture taken with Ilham and his wife Guzelnur, when I visited his home 7 days before he was arrested.

Woeser, February 10

* * * *

Ok. I'll let her know. @Uyghurspeaker@degewa Please let her know that she should be strong. At present more and more Uyghurs on WeChat and other social media are passing around news of Ilham. More and more people are coming to understand him.

Woeser, February 10

* * * *

My younger brother is so clever; he's usually very attentive to our youngest brother and always gives in to him. His personality can be said to be introverted. He has a maturity beyond his years; he loves to read and doesn't say very much. He's like a small adult. After the situation with my father developed I spoke with him on the phone and found him even less verbal. I tried to get him to go out and play rather than stay inside all the time. He said "jiejie, no one plays with me…"

Jewher Ilham, February 11

* * * *
* * * * * * * * * * * * *
About 24 hours after this blog post first went up Chinese media began reporting a statement from the Xinjiang Public Security Bureau. The accusations contained in it do not bode well for Ilham. The more outlandish the accusations, the less leeway the authorities have to retreat from a position of sheer vindictive political paranoia. In truth, the document sounds almost as if it had been concocted by a Stalinist prosecutor for use against an imagined Trotskyite cell and had somehow, by some mysterious means, materialized out of thin air in the year 2014, retouched but slightly for use against Ilham. It would be laughable if what it portended were not so grim:
"Police: Central Minzu University Teacher Ilham Engaged in Separatist Activities"

January 25, 2014: 20:15 Urumqi Public Security Bureau

According to an investigation, Central Minzu University Teacher Ilham Tohti colluded with outside "East Turkestan" forces, used the internet to promote "Xinjiang Independence;" used the lecture hall to incite the "overthrow of the government," used his position as a teacher to engage in separatist activities, put together a criminal gang of separatists with himself as ringleader and did serious harm to national security and social harmony.

Ilham Tohti established and used the website "Uyghur Online" to organize, lure in, and manipulate a group to serve as website administrators, correspondents and informants, so as to stir up rumors, distortions, and hysteria about criminal cases; and to seize opportunities to manufacture incidents, spread separatist ideas, incite hatred between nationalities, promote "Xinjiang Independence," and engage in separatist activities.

Ilham Tohti propagandized openly in the classroom that "the Uyghur people should use violent means to launch their resistance struggle," "Uyghurs should copy the resistance to Japanese aggression in years gone by and resist the government;" he called the thugs responsible for the "4-23 [2013]" and "6-26 [2013]" cases of violent terror "heroes" and incited students to hate the country, hate the government and "overthrow the government."

Ilham Tohti used his position as a teacher to lure in, seduce, and coerce certain persons to form gangs to collude with an outside "East Turkestan" leadership to plot, organize and dispatch persons abroad to participate in separatist activities.

With the Public Security Bureau's meticulous investigation, there is conclusive evidence supporting suspicions of Ilham Tohti's involvement in activities to split up the country. The case is presently moving through the next stage.
*NOTE: Hu Jia, one of whose tweets is translated above, was detained on the same day this post first went up. A well-known and much honored activist on HIV/AIDS, democracy and environmental issues, Hu Jia was imprisoned from 2008 to 2011 as a result of his unyielding, peaceful advocacy. He was released within a day. The two brief tweets that follow describe some of what happened during his detention:
The internet control team sent over a total of six police in their thirties and forties. One could see that they were the leading people within the unit. But nobody had any police IDs. During the 24 hours under the summons there were two interrogations. The first was for eight hours, the second for three. During the second interrogation, the most important line of questioning was about the Xinjiang Issue and the Tibet Issue. It included my support for Ilham this year and last, and my public statement that the Tibetan Prime Minister Mr. Lobsang Sangay shouldn't have a "Chinese Dream."

As the internet control team asked for my views on the Xinjiang Issue and the Tibet Issue, I insisted on each nationality's right to self-determination. An imperial determination for unification creates the root causes of enslavement to autocracy. I pointed out that the authorities' arrest of Ilham was a particularly stupid application of power. It is pushing the Uyghur people to that level of hopelessness that will put them on the path of placing their lives on the line for the sake of resistance. Judging by the reaction of the police, should they one day charge me with "the crime of inciting the splitting up of the country" it would not be unexpected.
Hu Jia's statement about Lobsang Sangay and the Chinese Dream is most likely a reference to the latter's assertion that "Now Xi Jinping says his slogan or aspiration or Chinese dream. And what we hope is that Tibetan dream be part of that dream…[sic] ." This quote is from Lobsang Sangay's somewhat notorious talk at the Council on Foreign Relations in May of last year, a talk that included some jaw-droppingly daft ideas…